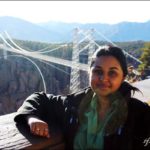 D. Nambiar
Presently a stay-at-home mom, D. Nambiar is a journalist by education and work experience with stints in mainstream journalism (print), online journalism and travel Journalism. She took to blogging so as to keep in touch with writing while she took a break from the job scene. However a travel – blogger she will always be, she swears. 
Tripping has always been an interest; something she's always been 'in for,' be it a trip to a far-away-destination, an or attraction in her –figurative– backyard, or even a long drive. So there were no second thoughts when it came to picking out a niche, she says.
Travelling gives her a high. So does writing. Hence the name of the blog. 😉
~~~
Travel Journalism record: D.Nambiar's first internship was at a Travel Trade magazine. Her first job was also at a(nother) Travel Trade publication. 
Travel writing: Tipsy from the TRIP is where she's specifically been doing 'Travel Writing.'
Tipsy from the TRIP came into being in 2008 and is a collection of her travelogues from the recent past, travel tidbits, and pictures from her travel albums (also a few stories originally published in the publications she worked for).
She also blogs at Odds and Ends, her personal blog.
For my part, I travel not to go anywhere, but to go. I travel for travel's sake. The great affair is to move. ~Robert Louis Stevenson
~~~