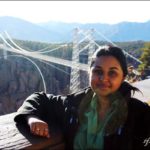 Presently a stay-at-home mom, D. Nambiar is a journalist by education and work experience. She began blogging so as to keep in touch with writing while she took a break from the job scene. However, a tripper and blogger she will always be, she swears.
She also blogs at Odds and Ends, her personal blog.
Bragging rights: Apart from some experience in mainstream journalism, this blogger has also had a stint with Travel Journalism; her first internship was at a Travel Trade magazine. Her first job was also at a(nother) Travel Trade publication. Tipsy from the TRIP is where she's specifically been doing 'Travel Writing.'
This travel blog -Tipsy from the TRIP came into being in 2008 and is a collection of her travelogues from the recent past, travel tidbits, and pictures from her travel albums (also a few stories originally published in the publications she worked for).
For my part, I travel not to go anywhere, but to go. I travel for travel's sake. The great affair is to move. ~Robert Louis Stevenson