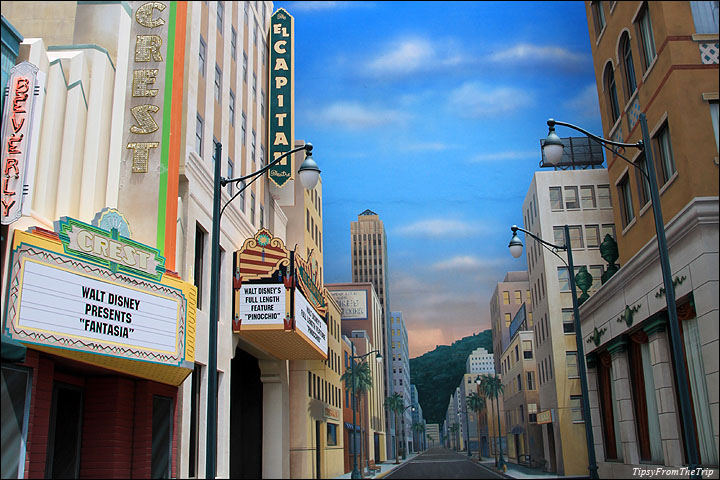 This week, Tipsy from the TRIP returns to Monday Mural with the picture of an enormous piece of art from the 'little Hollywood' in Disney's California Adventure Park in Anaheim, California. Let's call it the Hollywood Boulevard mural, for now.
I found this mural when I was on Hollywood Boulevard — not the real one — but the one in California Adventure Park, where Disney has tried to create parts of several attractions of the 'golden state.' As such, there is an area in the park that is called 'Hollywood Land' and in it, is a mini-Hollywood Boulevard and a Sunset Boulevard, too.
The Hollywood Mural
This mural is at the end of Hollywood Boulevard, where it intersects with Sunset Boulevard. When I first saw this, i.e when I entered the 'boulevard' I thought it was a big board with painted blue skies and clouds set up as a back ground for the street. It was only when I got up-close that I realized that that painting at the end of the road had some buildings also on it, making it look like the street extends into the mural.
When I say 'big,'  this is how big it really is in comparison with the size of us humans —
It was only when I was at the end of the Sunset Boulevard at Hollywood Land that I noticed that the Hollwood Boulevard Mural I had seen, was actually on the back of a building. Here's what it looked like when I looked back at the painting —
Linking to the memes:
1. Monday Mural hosted by Oakland Daily Photo. 
If you like this post, you might also like these–
Monday Murals on Tipsy from the TRIP
Have you visited Hollywood Boulevard in Los Angeles?
Come visit the street at this old post — Hip and Happening Hollywood Boulevard