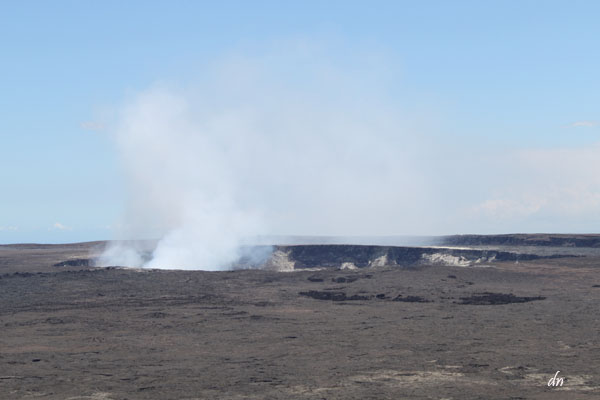 The highlight of my Hawaii Holiday was making it to Volcanoes National Park on Big Island. How could we go to Hawaii and not see a bit of the volcanic activity that this place is so famous for? As we were flying into Kona airport on Big Island, I had noticed the volcanic mountains that made the backdrop for the airport. I had also seen the dark traces of volcanic activity of ages ago, and was filled with awe. Soon we were driving towards our hotel further north on the west coast and I got a better look at the proof of Mauna Kea's eruptions and the effect it had on the landscape. I had never seen anything like this before. It was also interesting to see the smaller cinder cones in the area and see signs that molten material once flowed that way. (some pics in here)
When I was doing my homework just before we set out on our holiday, I had learnt that Big Island was not only the biggest of the islands that made up Hawaii but was also bigger than all the other islands (of HI) put together. Not just that; this island has been growing bigger, thanks to the Kilauea Volcano that has been erupting since 1983, letting magma flow off the southern part of the island and into the Pacific Ocean. When I got there, I learnt that this volcano actually erupted out of the sea.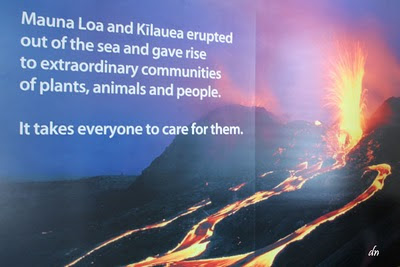 We had set aside a day of our Hawaii Holiday for a volcano tour and if possible, also see a beach that owes it very uniqueness to the volcanic activity on Big Island. And ever since we drew up our itinerary, I couldn't help getting excited about this day.
Volcano Tour
We were put up on the west coast of Big Island, and Volcanoes National park happens to be on the south-eastern part of it. So it was a long drive. We got on to Queen Ka'ahumanu Highway once again, this time going north for a little while, before turning right towards Waikoloa Road and getting on to Saddle Road that would get us right across the island to Hilo, a historical town on the east coast of this Hawaiian island. Saddle Road as its name suggests took us by some ranches so we spotted some horses and some sheep. It was mostly deserted though. Now if I were to say there were many hills on the way, you are likely to imagine a road that meandered around the hills, right? This road however, seemed strange to me as it would go up a hill, go down it and go up another hill, so on and so forth. Here instead of the `blind curves' you have blind uphill roads and steep slopes. Honestly, they did make me a little uncomfortable. I sure was happy to get to Hilo where we saw lush tropical plants and some human beings, once again.
By the time we had gotten to Hilo, we had had a long drive across Big Island so we made a stop on the way, stretched ourselves and picked up some lunch before we were on the road again. Soon we were on highway 11, continuing towards Volcanoes National Park, which was south of this town. It was almost noon when we got there. The first thing we did was walk into the visitor centre, pick up some information about the current situation with the volcanoes and clear our doubts about the points of interest that we had marked out.
A few minutes later, we were dashing across the visitor center and driving on Crater Rim Drive to see steam vents(pic. above), the large Kilauea Caldera and the Halema'uma'u crater. Standing at the crater and watching the gas spew out of Halema'uma'u crater, honestly got me stunned. I could barely believe my eyes. Neither could I believe that I was standing beside one of the most active volcanoes in the world. From where we were standing we couldn't see the magma as the lava lake was below the Kilauea Caldera. Around that time, most of the lava flow was taking place underground for some distance before it emptied itself in the Pacific. Maybe if we had done the volcano boat tour, we might have seen some of the red hot substance, but that was so out of our way. We had planned to do the Crater Rim Drive, a lava tube and the Chain of Craters drive at the Volcanoes National Park.
When we visited, a part of the 11-mile Crater Rim Drive (the road on the rim of the Kilauea Caldera) was closed to public so we went up till the Jagger Museum, which was the overlook closest to the steaming crater. We had a look inside the museum and saw different lava rocks, photographs and a whole lot of interesting exhibits before we retraced our path and turned off towards Chain of Craters Road that promised several smaller craters and hiking trails (there's even one that let you walk on a dry crater).
Na Huku
One thing we thought we shouldn't miss was Na Huku. Also called the Thurston lava tube, Na Huku is a cave-like thing that you get into, in the middle of some lush green rain-forest. Although they describe it as a cave, I would say it is like a tunnel. Hot boiling magma once gushed down this way and the outer part later cooled and hardened even as the flow below, continued. When the flow eventually ceased and the last of what could be drained, was gone too, what was left was a tunnel like thing that looked like this:
As we walked through this lava tube, I could imagine the magma and the force of its flow and thought myself so privileged to actually stand in a place where this powerful natural phenomenon once occurred. Seeing Kilauea and Thurston lava tube were an opportunity of a lifetime. I don't understand why all visitors to Hawaii don't do this. I really, don't.
Later, we drove down Chain of Craters Road for a couple of miles and then made a turn as we knew we had seen the most important things in the area. Moreover, we had been told at the visitor center that at the moment red hot lava was not visible from the spot at the end of this road where there is a marked viewpoint. However he did encourage us to stay till late evening or return to Kilauea at dusk, when the natural light would be dim, allowing us to see the glowing steam; the glow from the lava below. We saw a picture of it and wished we could stay back. But we had a long drive back and yet another point to cover before sundown.
Our next stop on the volcano tour was a place that was a half an hour away. We got onto highway 11 once again, this time going westward. Soon we where in Punaluu Beach and we were there to see Black Sand. Yeah…black sand; black from volcanic activity. That is a rare sight, so you have a board that tries to prevent people from taking away the sand.
Now that the black sand beach was also checked off our list of attractions, we took the coastal drive again back to the Kohala Coast. By the end of the day, we had done a total of 220 odd miles. We had travelled across the island and driven more than half of the east coast, the whole of the broad south coast and once again– more than half of the west coast. One long drive that was, and we were exhausted from the volcano tour. But it was all worth it. The day was well spent.
Coming soon: pictures of the black sand beach and a beach with black-and-white sand. Please do return to Tipsy from the Trip.
Related Posts: