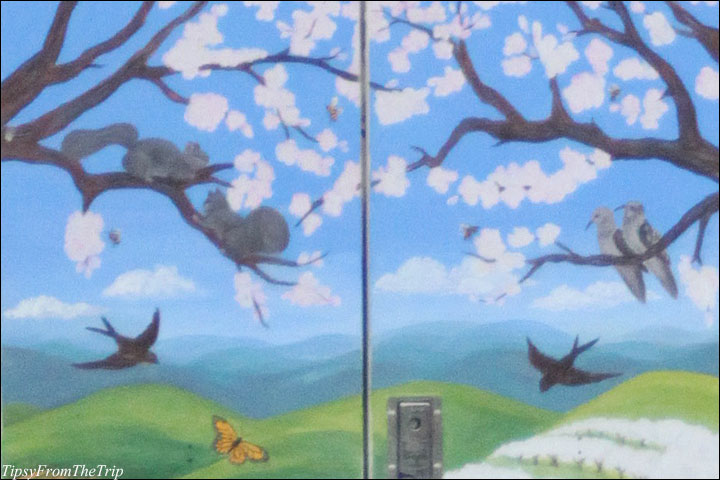 In the fall, we had been to Saratoga, CA to see some fall colors at Hakone Gardens, a Japanese Garden in the city. Later as we drove through Saratoga Village, we found that there was so much colour all over the city. In the middle of all that fall foliage, I spotted — what looked like — cherry blossoms. They were on a utility box in Saratoga Village.
Painted onto the box were squirrels, birds, butterflies, blossoms and green rolling hills — a picture of spring. I looked up the painting and found that the artist behind this work is Tina Liddie, a Saratoga artist.
Saratoga's utility box art project
I also learned that the City of Saratoga is on a mission to turn all the not-so-attractive utility boxes in the city into canvases, to turn them into pieces of art that are pleasing to look at. The city apparently has been taking in entries for public art in the city. The paintings are then presented to the residents of Saratoga, who will vote for the paintings they would like to see on their streets.
This picture of Spring by Tina Liddie is from the 2017 collection. The city is now preparing to put up its next set of public art. By the end of February, the paintings should be finalized and the new pieces of art should be up by May 2018.
More about Saratoga's utility box art project on the city's official website.
Linking to Monday Mural (now hosted by Colourful World)
More utility box art on Tipsy from the TRIP
Murals featured on Tipsy from the TRIP